Why I hate Columbia House DVD Club
A while ago I signed up for the Columbia House DVD Club. They had a good deal, buy a whole bunch of DVDs at about 50 cents per DVD plus shipping. I think I ended up getting five or six DVDs for about $15 (U.S.) The catch is that you had to buy three more DVDs at their regular price. This didn't seem like a bad deal to me and I did end up buying four more DVDs at their regular price. The company also makes you fill out quite a lengthy survey when you sign up, this survey is intended to guide them to suggest DVDs that the customer would like.
This is when my hatred of the company started. At the time I was buying my DVDs at their regular price I would get a monthly "Director's Choice" offer, this is a DVD that the company picks and will send to you automatically if you don't refuse it. In the past two+ years that I have been with the "club" I have only had one or two "Director's Choice" DVD selection that fit my interest (so why was I made to fill out their lengthy survey??) Twice I received this Director's Choice DVD selection without ever getting notice that they would be sending me a DVD, I returned those for a refund.
Another incident which I really didn't care for occurred during the time I was my DVDs to fulfill the agreement, I found the same DVD which Columbia House had at buy.com for about $10 cheaper. I contacted Columbia House and they informed me that they could not do a "price match" on the DVD or anything else to make me happy.
The last "nail in the coffin" that drove me to make this webpage is that a few months ago I started noticing that the "Director's Choice" DVD that they offer me is more expensive then if I were to buy THE SAME DVD in their OWN online store!! The price difference I have noticed is anywhere from $5 to $15! So I have made some screenshots to prove this and I am including it below.
First example, below is the "Director's Selection" of "The Pink Panther Special Edition" for $19.95.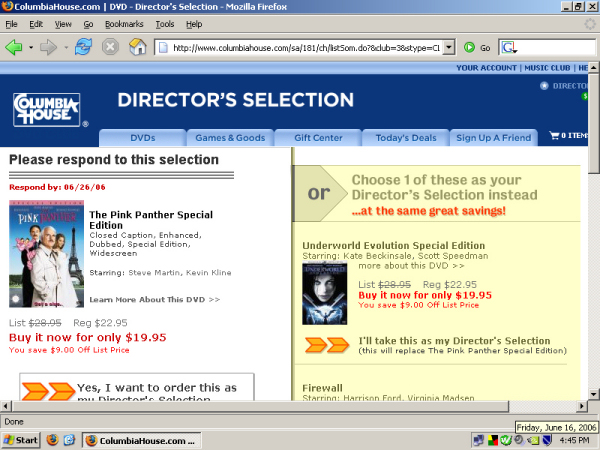 So I proceeded to reject this Director's Selection and then on the very first page of their regular store I see that the exact same DVD is available for $13.77. Proof is in the picture below (both screen captures taken on the same date as shown by the system clock in the bottom right corner)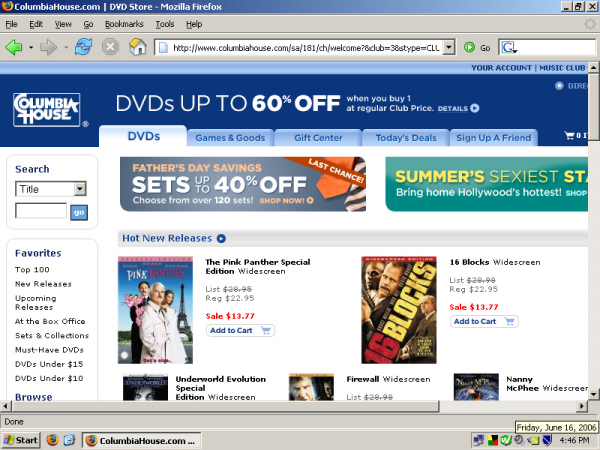 Here is another example from July 13th. Director's Selection of "Failure to Launch Special Collector's Edition - Widescreen" for $19.95. E-mail address on these screenshots has been blacked out.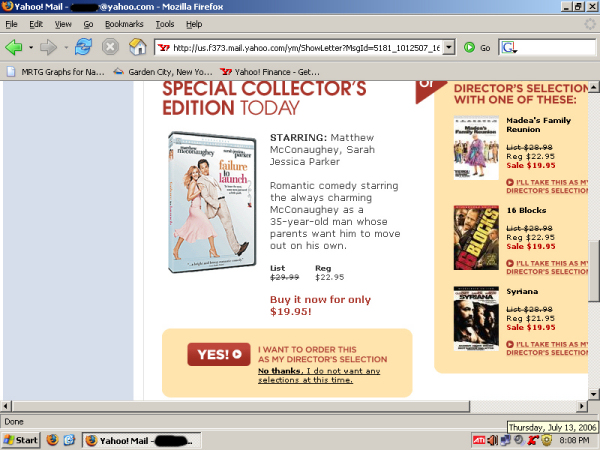 The same DVD is available from the front page of their store for $13.77.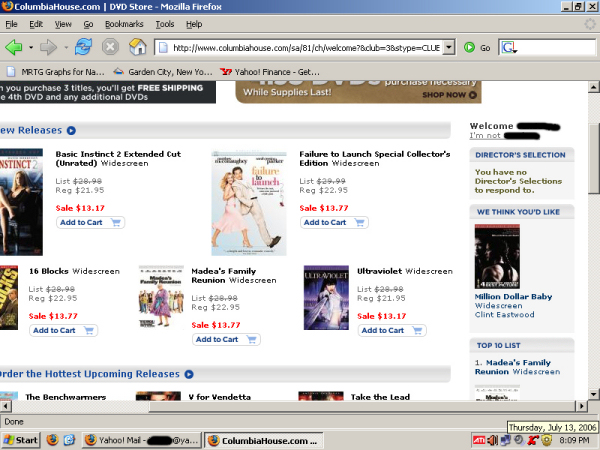 Last but not least the company makes it almost impossible to quit from their membership. There is no way to do it online and there is no clear way to do it over the phone, except maybe to be on hold for over twenty minutes (that is when I gave up being on hold because I had to go somewhere)
-Steve Ochani