Remote Admin - Page 1


This Remote Admin program lets Administrators control different aspects of multiple computers from a single workstation. Ideal use would be in a computer lab. Several features are available right now such as Workstation policies (ex. If you can disable user from changing desktop and network settings) Remote registry editing, file transfer, etc. Basicly whatever you can do at the computer yourself you can do remotely.

The program consists of mainly two parts. A Node, which is installed on the machines you want to control and a Client which is installed on the machine from which you want administer from.

This was developed for commercial purposes and cannot be offered for free.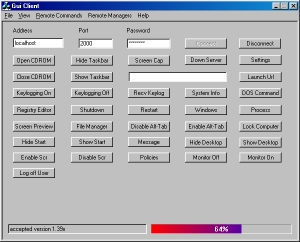 Click on thumbnail image to see bigger picture


This is the main screen, from here you can access all the features with buttons or with menus such as shown below.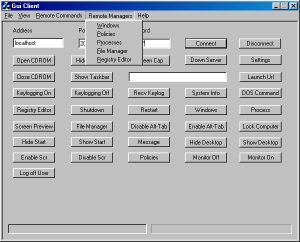 Click on thumbnail image to see bigger picture
Back to my software page